"Mantras" by Wim Henderickx
National Opera of Greece, Alternative Stage Music Theater Days 2018 "At the limits of human voice"
"Mantras", a contemporary opera composed by Wim Henderickx for soprano and electronics, received its greek premiere on July 5th during the Festival "Music Theater Days-At the limits of human voice" in Stavros Niarchos Foundation Cultural Center in Athens.
In "Mantras" Henderickx developed an imaginary language and the soprano can sing in an open form in which she can freely process the evolution of the work. Shri Yantra, for 8 channel soundtracks, serves as an intermission between pieces-or even between the Mantras themselves- with its mellow harmonic field, where the five nature elements were used as a foundation of the sound material: water, fire, air, earth and ether. As basic material for this electronic work, the composer made use of the sound of stones, wood, water, rustle sounds and a sample of the Tibetan cymbal. The structure of the work as well as the spatialisation, were determined by the geometrical forms within the Shri Yantra. As an epilogue, the subltle vocalizing of Elusive time, based as well on the nature elements, is aiming at triggering the listener's poetical reflection.
Source: www.wimhenderickx.com
Electronics: Jorrit Tamminga
www.jorrittamminga.com
Soprano and stage director: Danae Bletsa
Photos @dsakalakis @GreekNationalOpera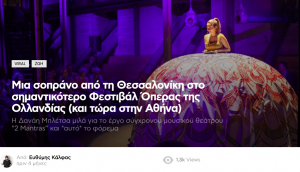 Lifo greek interview, June 2017
About the greek premiere of "Mantras" at the Alternative Stage of National Opera of Greece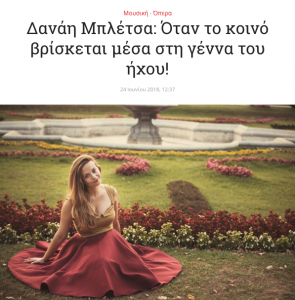 Art & Play greek interview, June 2018
About the greek premiere of "Mantras" at the Alternative Stage of National Opera of Greece
Art & Press greek interview, June 2018
About the greek premiere of "Mantras" at the Alternative Stage of National Opera of Greece